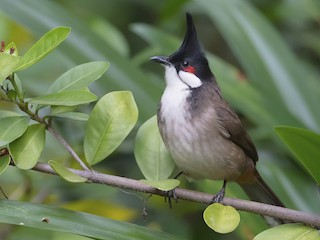 Decorate your phone with a cute Hong Kong Bird Red-Whiskered Bulbul picture
We put the pattern of Red-whiskered Bulbul into the phone case to preserve and commemorate the wild creatures of Hong Kong.
• Slim and light design
• The size and placement of the graphic on the case may be varied due to different phone specifications.

Red-whiskered Bulbul
The red-whiskered Bulbul is a common bird in Hong Kong. It can be easily recognised by its black, prominent erect crown feather, which is a unique feature of Red-whiskered Bulbul.
There will be 3-14 days to prepare, package, and put it in the mail (Surface mail). All Pictures shown are for illustration purposes only. The actual product may vary due to product enhancement.

為你的手機裝飾一個可愛的紅耳鵯圖案吧,代表香港野生動物的電話殼保護套
我們將紅耳鵯的圖案放進手機殼,籍此保留及紀念香港野生動物。
• 輕巧設計,增加裸機感
• 不同手機款式機殼上的圖案大小及擺位會有所變化
紅耳鵯 Red-Whiskered Bulbul

紅耳鵯是香港常見的雀鳥。要辨認紅耳鵯並不困難,牠頭頂那直立顯眼的黑色冠羽,就是牠的獨特標記。牠有一個十分切合其特徵的俗名-「高髻冠」。

下單付款預訂後 3-14日內用平郵寄出
圖片只供參考之用 一切以實物為準